Our knowledge of building science allows us to view the house as a system, of which the venting system is one important component. Because we look at the "big picture" and solve the problem right the first time around, our solutions are very cost effective and less frustrating for the customer.
Servicing Residential and Commercial Wood, Oil, gas and pellet Chimneys. (NFPA Level I, II & III Chimney Inspections) Chimney Inspections, including; safety, structural, real estate, post accident and pre-installation inspections. Rotary Power chimney cleaning.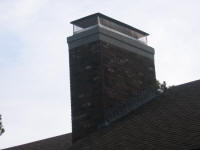 Water Management, including, caps, crown sealing/repair, vapor permeable brick sealant application and flashing repair/restoration. Damper repair/replacement. Chimney Liner replacement. Smoke chamber restoration. Firebox repair.
Woodstove and Wood Insert Installation.
Other services include, Energy Conservation Consultation , wildlife exclusion gutter cleaning covers, cupola and weather vane installation